PRODUCT INFORMATION
Eat Small's WALD combines selected farmed insects with premium tasty gluten and grain free ingredients. Insect protein is one of the most sustainable animal protein on Earth; it is a healthy alternative to meat and part of an eco-responsible lifestyle. With 25% protein and 14,5% fat content, WALD is well balanced for dogs with normal activity level or for sporty and working dogs. Our recipe has been developed by our veterinarian and is also recommanded for sensitive dogs and for those suffering from food intolerances.
STRENGHT AND ENDURANCE FOR ACTIVE DOGS!
COMPOSITION
Composition: Hermetia illucens 30% (natural source of protein, vitamin B12, calcium, iron), sweet potatoes 26%, amaranth 24%, sunflower oil, colza oil, flax oil, pumpkin seeds, minerals (including sea salt 0,7%), brewer's yeast, cellulose, redcurrant 0,2%, acerola 0,2%, turmeric 0,2%, rosemary 0,2%, nettle 0,05%. Analytical constituents: crude protein 25%, crude fat 14,5%, crude fiber 3,6%, ash 6,98%, humidity 9%, calcium 0,95%, phosphorus 0,55%, sodium 0,45%, energy uE 3.590 kcal/kg.
Additives: Nutritional additives per kg: Vitamin A (E 672) 15.000 I.U., vitamin D3 (E 671) 1.500 I.U., vitamin E (as alpha-Tocopherylacetat) 100 mg, vitamin C (as ascorbic acid) 350 mg, thiamin (B1) 5 mg, riboflavin (B2) 6 mg, Pyridoxin (B6) 4 mg, cobalamine (B12) 70 mcg, niacin (B3) 45 mg, D-panthenol (B5) 12 mg, folic acid (B9) 2 mg, biotin (B7) 500 mcg, iron (as ferrous sulfate(II), monohydrate) 110 mg; copper (as copper(II)-sulfate, pentahydrate) 12 mg, manganese (as manganese-(II)-oxide) 15 mg, zink (as zink sulfate, monohydrate) 100 mg, iodine (als calcium iodate, anhydrous) 1,5 mg, selenium (als sodium selenite) 0,15 mg, taurine 300 mg, L-Carnitine 300 mg.
FEEDING RECOMMENDATIONS
Tip from our vet to introduce WALD to your dog
If you provide your dog with a new food, introduce it over a period of 4 days. By doing so, your dog (and its digestive system!) will happily get used to the new diet.

DAILY RECOMMENDATIONS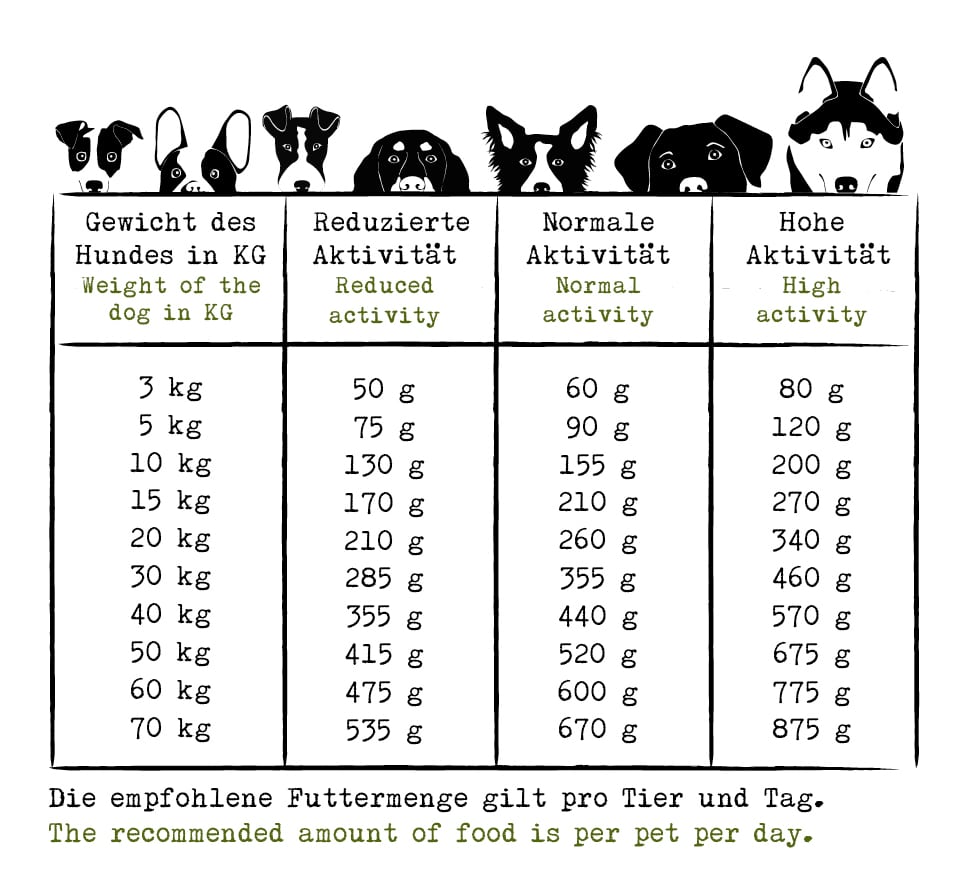 These recommendations are guidelines and the feed level depends on your dog's condition and activity. Offer your four-legged friend enough fresh drinking water everyday.